50 post ideas that will give you a lot of attention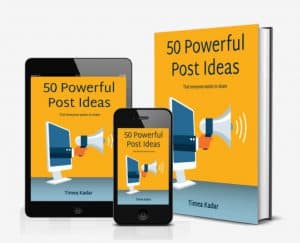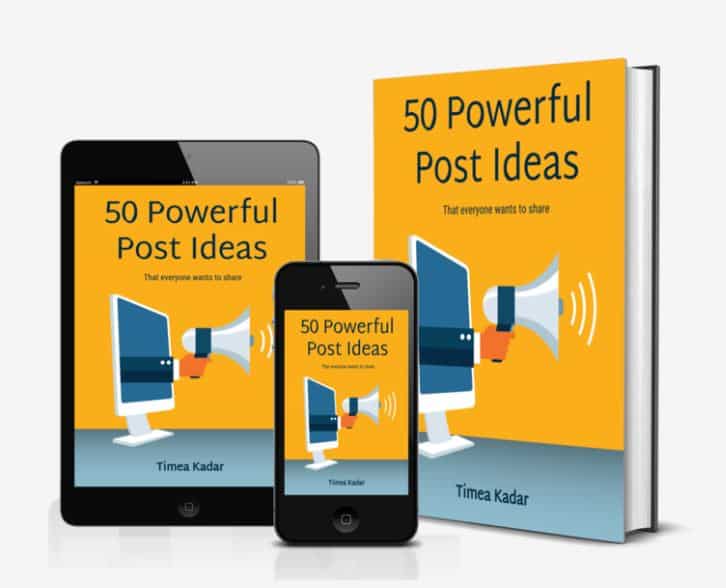 Do you struggle with finding a topic for your next exciting blog post? Here you have 50 ideas you can use on LinkedIn, Facebook, Instagram and will make people engage. Why? Because the reader can easily relate to them and see themselves in it. The best idea is to make your reader shine; you can do it by asking them a question at the end of the post to make them react. You'll find a proposed question for each idea (obviously there can be many more). (You can download the pdf version here: 50posts_2020)
Remember one of your recent meetings or call with a client. This can be a current or prospective client. Likewise, you can think of a talk with one of your suppliers or partners to get inspiration for your posts.
#1 Think of a question frequently asked by your clients. Answer them in the post, this will also help your readers understand better what you do. Question: What is the most frequently asked question in your business?
#2 Think of a common misconception, misbelief people have about your industry. Sharing this misbelief is an honest act people are not used to, and then you can explain the truth. Question: What is the most frequent misconception about in your business? OR if it's B2C: "Have you had this feeling too?"
#3 People always struggle with selecting the best provider in an industry as they don't have the expertise to do so. You help them a lot if you give the reader a checklist of questions they should ask the prospective providers and things they should check before making a decision. Question: "Have you found any surprising questions you have never asked?"
#4 If you meet your colleagues, team, partners, mastermind team, you might have a crucial learning point or something they said you want to share with your readers. It makes your posting more exciting, as you involve talking about others. Question: Who is the person you can always count on?
Think of an actual work you do for a client or something you have recently done. A great source of information for several posts.
#5 From time to time include anecdotes about your work. One of the ideas is to explain a problem your client had, and how you solved it, what kind of impact could you have on their life. Question: "What was the biggest impact you could have on somebody else's life?"
#6 Following from the previous idea, feel free to post an expert of feedback or testimonial from a customer. Make sure you explain the background of the work, and you don't necessarily have to include the whole testimonial, you can use the most powerful part of it. Question: "What was the most memorable testimonial you had?"
#7 You might face unexpected problems during your work, write about them, and also about the solution. Make it a bit dramatic as you found it out. Question: "What did you do when you faced an unexpected problem?"
#8 Our clients often complain about other suppliers they have tried before turning to us. Share one of these stories, and give some tips on how to avoid it. Question: "Have you had a bad experience with an xxxx business?"
#9 Write about your passion for your work, why you do it, why you started. Write about your mission. These are the posts that readers always love. Question: Do you do your work for passion or for the money?
#10 In some industries it's interesting to talk about the tools you use for your job. It can be something unexpected, or an interesting software, sharing this knowledge with your reader will make them sit up. Question: What is the most important tool you use for your work?
Can you remember the last networking event you attended? That will be a great source for post ideas – especially, but not exclusively, in the B2B sector.
#11 How do you introduce yourself? What is your pitch? Write it down for a post and ask for opinions from your readers. Alternatively, you can give some tips on how to deliver a great pitch. Question: What is your best sales pitch?
#12 If you have heard a good pitch from somebody else, share it, tagging the person and their company.
#13 Write about the role of networking in your business. Do you like it? Do you find it useful? What was your best referral that came from a networking event? And what do you hate about networking? It's a great topic to bring back from time to time. Question: What was the best networking event you have ever been?
You read industry literature anyway. Apart from learning from it, think of it as a source of your next post.
#14 Write a review of the book or article if it's something that could be interesting for your reader. Question: "What have you read recently that you found useful?"
#15 Your readers might find it helpful if you give them a weekly or monthly digest of the most interesting industry news, developments in your industry. Question? Which one of these developments will have an impact on your life?
#16 Social media is a platform to share your opinion. If you share a post or article from somebody else, always include your opinion about it, why you liked it or why you didn't. You can also include a counter opinion of a common phenomenon or trend. Question: I'm curious to know what you think about it.
#17 If you're meeting a partner or have a 1-2-1 with someone, you can do a quick interview and publish it tagging them.
Always use the opportunity to share with your readers if you go on training or hold one.
#18 Write about one thing you learnt at the training. Question: What is the most important thing you learnt?
#19 If you held the training, instead of simply posting a photo about it, you can list three things your audience you found valuable.
Speaking at a conference, winning an award or being published in the press are great opportunities to post about. Make sure it goes beyond the obligatory photo post.
#20 Write about why it was important for you, what is your mission and what does it mean in your journey.
#21 An interesting behind the scenes story or how you prepared for it could work well. Question: Which magazine would you like to be published in?
If you or your company has an anniversary, make sure you include it in your next post.
#22 A little throwback on how you started: your first client, first office, first invoice etc. People love nostalgy. Question: Do you remember your first client?
#23 Compare things then and now: technology, regulations, people. Your post is guaranteed to reach a high engagement.
#24 Why did you give this name to your business? Do you regret it? Question: What is your company name, and why that?
#25 Write about some exciting figures about the total number of clients, colleagues, coffees, and several other things. You can even create an infographic.
If there's breaking news or an event in your industry, speak about it.
#26 Themed weeks (like world photography or mental awareness) are a great opportunity to write about but you have to be prepared that a lot of people do the same so try to come up with an unusual angle. Or even better: use a themed week from an other industry to show how it relates to yours.
#27 If you attend an exhibition or a trade show, make sure to give a valuable review to readers and you might take some nice photos.
#28 If a new regulation is published, be the first to clearly explain it to readers, this will make you a real influencer. You can also review those regulations which are often misunderstood or misinterpreted.
You can use the news of the world even if these don't relate directly to your job.
#29 Newsjacking is a very clever tactic to use the trending news and find a – not so obvious – link to your profession. At the time of Meghan delivering the royal baby, financial advisers can write about planning our children's future right from the beginning, portrait photographers can write about how to royal photographers approached the first photoshoot. The list of ideas is endless.
Use posts to educate your audience.
#30 Share 1-3 actionable, specific tips your readers will be able to use right away.
#31 Explain the process you go through with every new client. Question: What is the process of your job?
#32 Help readers with the definition of terminology that people often mix with something else, or don't understand.
#33 Listicles and checklists always top the popularity contest of blogs. It can be the Five best playgrounds in London or the 10 most popular WordPress plugins for membership programs.
#34 Try to post about the mistakes your clients make before coming to you, or people make in your industry. Add tips on how to avoid these. Question: What is the biggest mistake your clients make before meeting you?
#35 A short knowledge quest or quiz will always make people listen. "Did you know"s about your industry, or guessing a number, giving multiple choices. A natural and simple way of engaging.
#36 Make your readers share their opinion or vote on a subject. Always introduce the topic with a story, instead of simply opening up the vote. Then you can add your expert opinion. Some ideas you can make people vote about.
PRO Post ideas: the below ideas need some investigation, research, and more advanced writing skills, but if you're a pro why not to try them.
#37 History of your profession, surprising facts (e.g. the word 'marketing' was first used in 1884 in Harper's Magazine).
#38 Extremes: the most expensive/cheapest….ever sold. How much would it be to…
#39 Convert a well-known anecdote or a fable to your business and sum up the learnings.
#40 Share how you could help a celebrity, a historical figure or a cartoon character.
#41 Most people don't dare to show vulnerability. If you do, share a mistake you made, and what you learnt from it.
#42 Objections people have against your industry, service, and the truth.
#43 What would be our life without Google, mobile, social media or a tool you regularly use.
#44 A letter to your 20-year-old self
#45 A letter from your 20-year-old self
#46 Letter to someone in your business in 20 years
#47 What advice would you give to someone starting their business now?
Finally, don't forget that social media is also for you to promote your business and work directly. Don't do it in every post but don't hide it either.
#48 Talk about what you work on and where you have availabilities.
#49 Talk about product launch and ask people to share it with their connections who might need it. (Be specific who needs it.)
#50 You can always give a sneak peek of your plans, events and ask for your readers' opinion.
Make it very easy for your readers to comment: a list of questions
Training, public speaking
Do you find self-development important?
What was the last piece of training you found useful for your business?
What do you do to pass on your knowledge?
Do you have a fear of public speaking?
What is your source of learning?
Clients
Who is your ideal client?
If I could introduce you to your dream client, who would that be?
What is your mission?
Can you tell people why they should buy from you?
Have you ever had a celebrity as a client?
Can anybody be your client?
What problem do you solve?
Achievements, projects
What is the work you're the proudest of?
What difference does your work make for your clients?
What is the testimonial you are proud of?
How can I refer you to my network?
Business
Milestones: do you remember your first client, office, hire?
How do you deal with…?
What do you say if…?
How do you keep yourself motivated/inspired?
Make your readers shine
Tag partners, clients you work together and explain why
Tag speakers and explain why
Post about a 1-2-1 and tag the person and why you recommend working with them
Tag people in comments
Recommend their book, course, offering, explain why
Give recommendations, and create a post out of it tagging them