Convert more clients
Build a brilliant product staircase for your business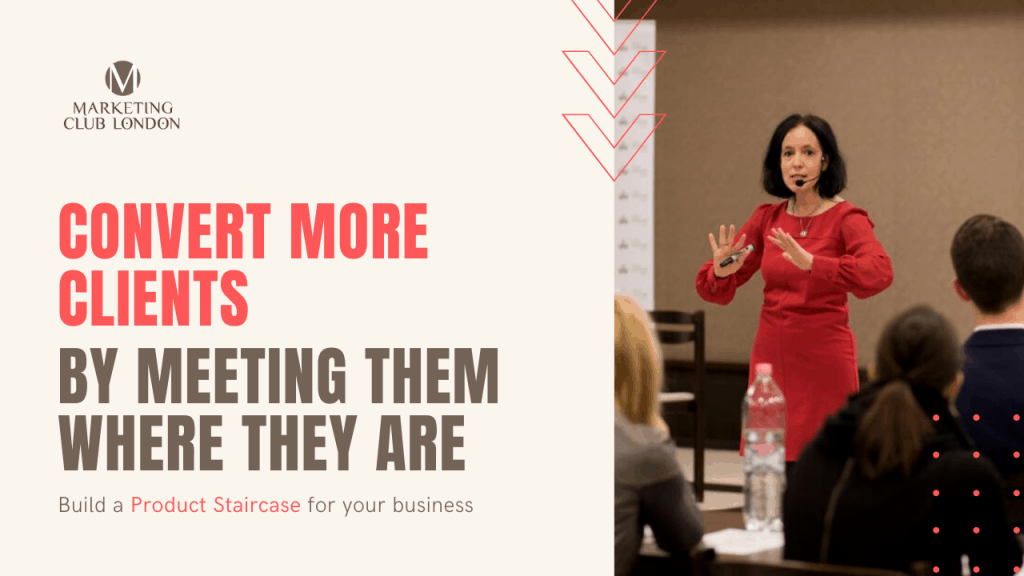 Does it ever happen to you that you had a nice consultation with a client, you spent some time with them but they didn't sign up for your services or products? There could have been several reasons why they didn't sign up. They might have not been ready to buy your full service or product yet. They might have not been aware of the problem that you're solving. They might have not been at the same stage as you are. At this point, a product staircase could come into the picture. 
In this blog post, I'll show you the product staircase. What it is and how to build one for your business. (See my video about the topic below the article).
Basically what you do in business or in marketing is that you take the prospective client by the hand, at the bottom of the staircase and you walk them up, step by step to the top which is the point you are making the profit, making them a happy customer. There is not just one grade in the stairs but there are several. You have to take every single one of them seriously. 
So we are starting from the bottom of the stairs;
Awareness 
This is the stage where you have to make them aware of the fact that you are actually. If you tell them to buy something at this stage, the response will probably be "No thanks." You usually need a cheaper entry-level product or even better, something for free. This is the stage that those products will be webinars, PDFs, events on one niche area. A service which will give them a taste of what you do. But be careful, this is not a simplified or poorer version of what you do. This should give them a high value. They should see this: Even for the free product, you are giving them something valuable. What is good with webinars and publishing a book, is that you can talk to groups easily. It's very easy for them to step up at this stage. If they don't sign up, and this may happen, it means that they don't really need it, so no worries. 
Consideration
Now, they have seen what you can do, they have seen the problems and their solving, your service. This is the stage where they are not fully committed to buying your service but getting familiar with it. If you offer them something that would be so easy to buy, like free trials, you can give them something to say "Yes" easily. At this stage, your product is an entry product so make sure to keep the price low. Also, keep this in mind, they can easily refer you at this stage. Which is a perfect advantage for your business.
Purchase
By this stage they will understand what you do, understand how you are different so they won't ask you the price-related questions because they already know the answer. They can see the value you are offering to them. It means that it is time for the core product. Complex and profitable. 
Advocacy
Ok, they are now clients. Many clients will want to buy more from you, be a VIP or premium version of what you do. Create a product just for them. We would like to call this a premium product, with the highest profit. Around 20-30% of your clients will be ready to step up. You can give them even better service or something extra and they will pay you more.  
What are the common mistakes? 
So the fact is, many businesses make the mistake of not having Awareness and Consideration stage, which means the clients are not ready to jump up to the Purchase stage. They will lose clients and generally, the lost-clients will directly go to the competitor. Skipping the Advocacy stage is also a common mistake. Many of the businesses don't have premium products. Therefore, make sure to have all these stages. One step further is a membership. One step further is a client. One step further is the highest profit. Never think you don't need it. You need all these steps.
Pricing? 
Once you are ready with these stages then you think of the pricing and products. Marketing doesn't start with communication. It starts with the right product staircase, then communication. So it's time for organic and paid commercials. Don't be mislead, even if your product is a service you should be able to productise what you offer. Think of your product staircase, how you can meet your prospective client at where they are at not where you are. Think with their heads and you will get this done!
---
This article was written by Timea Kadar, Chief Marketing Strategist of Francis Cooper based on the thoughts of other professionals duly quoted. Timea has 21 years of experience in marketing working as a marketing lead at large corporations and a marketing mentor at smaller ventures and start-ups. If you'd like to know the marketing strategies for your business, contact her at tk@franciscooper.com