Five urban legends about LinkedIn
And the cold hard truth
There are several urban legends, tips, and word of mouth knowledge that is passed on about how LinkedIn works. And I'm the last to say I know better. What I can say though is that I tried and tested, several times, at several accounts, and I share my experience based on these tests.
#1 LinkedIn algorithm prefers comments that are added right after the post was published and will show it to more people
As I said above, I can't say explicitly if it's true or false – and nobody else can. LinkedIn doesn't publish its algorithm preferences, and even if it did, these change. So anyone saying anything about what LinkedIn likes or dislikes is spreading an urban legend. My own research doesn't show a correlation between the imminency of the comments added and the number of views the post reached. The below Halloween post I added on a Saturday afternoon, and comments started to come in the days after, and with only 9 comments it reached 1,481 views. The post on the right I published in the morning, it was commented on right away, and the reach is lower (1,212). This is not the only time when I see no correlation between the imminency of the comments and the reach. It's great to have comments, no matter when.
#2 LinkedIn doesn't like external links, so if you add it in the post, it will have fewer views.
The above belief makes people add links in the first comment, which becomes a hard-to-find comment once several comments are added. It's the most annoying when I'm really interested in something the author talks about but I find out that they wanted to please Linkedin more than me 🙁
I decided to focus more on my readers and user experience than the algorithm, and it was rewarded with a 50% higher click through rate of the link versus when it's in the comments. So even if this belief is true, I won't make my readers look for the link in the comments. (Besides, I'm not experiencing fewer views when the link is in the post.
#3 LinkedIn is a professional platform, personal content won't work there
There's no platform on Earth (and potentially in the universe, but I have no proof of that) where stories wouldn't work. People don't wear suits and tie when reading Linkedin and then switch to pyjamas before turning to Facebook! In a lot of cases, they don't even notice where they are. My posts with the highest number of views are all about my story or look at the one below (more than 10,000 views). It's true however that the story has to make a point, and shouldn't be just for the sake of sharing a story.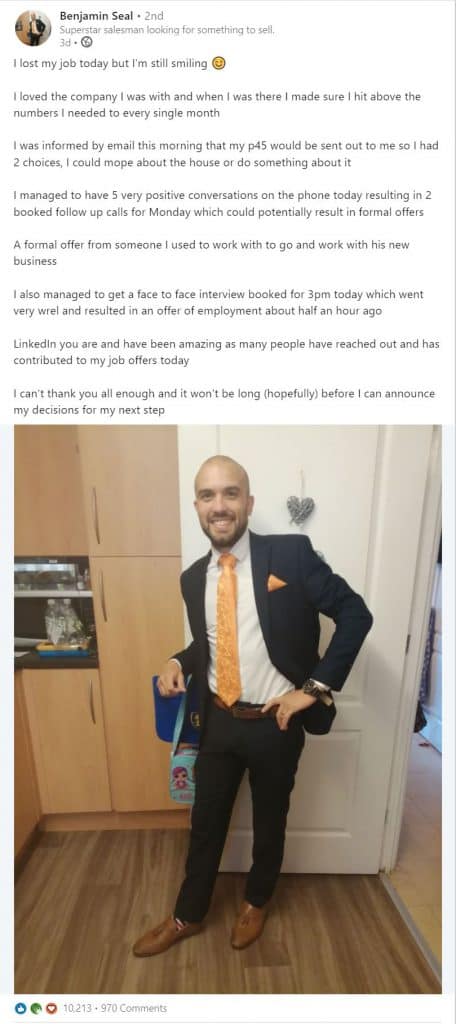 #4 LinkedIn is for B2B businesses
While the majority of the businesses are B2B, if you have your B2C customer on LinkedIn, you can reach them there. Remember that people don't change their hats, they can be on LinkedIn as a business owner AND a busy mum AND a dog owner at the same time. Just two examples below whose posts I really love: Anthony takes us to wonderful places and shares amazing stories as a travel expert (non-business). (No wonder he retrained as a copywriter for the covid period.)
April's posts are always popular, she is a permanent make up artist and anti-ageing therapist.
Whether you're B2B or B2C, you are talking to people, and if you can impress them, you'll do good on LinkedIn.
#5 LinkedIn Stories is a new feature that LinkedIn will show to a lot of people
It's really new, but it hasn't made it yet on LinkedIn. I tried several various types of content reaching 21-21 views, while the same content reached thousands as a post. This below is my first Tik Tok video. It had 170 views on Tik Tok (I have 6 followers).
I uploaded the same to Instagram Story: 30 views (4,300 followers.) Linkedin Story: 6 views (3,800 connections). When I posted it in the feed, over 400 views. The same way as one person doesn't have to be good at everything, one platform doesn't have to do everything.
Conclusion
Don't try to impress the algorithm, the gurus, LinkedIn, but your audience. And while it's recommended to keep track of numbers, don't be lost in the count of views, likes, comments, but the quality of the connections you make
The article was written by Timea Kadar. She started the 30-day LinkedIn Challenge in January 2020 to help business owners get into the habit of using LinkedIn, build their strategy, and get quality connections and leads in 30 days. Read more about the Challenge here.