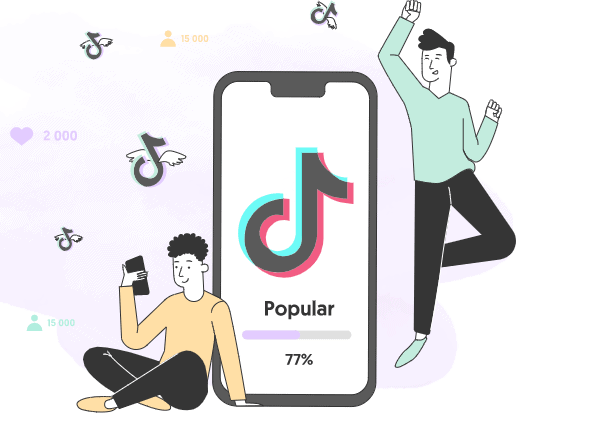 With more than 800 million active users Worldwide, TikTok is the newest trend in social media and one of the most popular social apps among teenagers, but not only!
Since its inception in 2018, TikTok has evolved from a video-creation app solely meant for users to express their creativity to a marketing and advertising heaven in which brands obtain a very powerful engagement with consumers never seen before.
So, let's better understand what's this platform about, how it works and how to create a successful profile among all the others.
TikTok consists of 15- and 60-second user-recorded videos that allow for in-app editing and integration with the other major social players.
On TikTok there's an audience for every voice, from teenagers to adults and old people too.
So, why companies should invest in this platform?
TikTok for business is where you can unleash your brand's creative side in order to connect with the audience of the entire World. How? Through video, only in shorter, bite-sized clips.
The TikTok algorithm: another plus point for businesses.
It's known that TikTok has the highest engagement of any major social media platform.
But how?
Well, the For You section's algorithms are based on the preferences and activity history of the individual users. So, it's nearly impossible that two For You sections are going to be exactly the same.
There are different factors that influence the For You section's content:
user interactions like shares, followers, comments and likes
video information like the length, captions, sounds and hashtags
account settings like the language and country
So, why is TikTok a good opportunity for a brand?
TikTok is viral now, it reaches a very huge audience, it grows your customers' engagement and it allows you to show your business' creative and human side.
Where to start, then?
Well, in this article I will cover these three mainstains in order to create an effective profile:
Define your Target Audience
Choose your message (create your own style)
Create the right content for your audience and discover when to promote it
And, after having defined these concepts, I'll talk about the power of Analytics, the importance of collaborating with Influencers and other similar profiles.
Finally, I'll share with you which tips are essential to keep in mind in order to have a good profile.
_________________________________________________________________________________________________________
WHO ARE YOUR DREAM FOLLOWERS?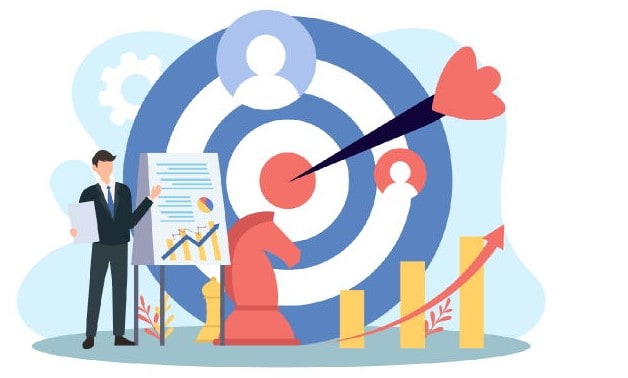 How to choose the right audience for your company?
It's very simple. Based on your interests, hobbies, experiences, stories and thoughts you can choose your niche because, if you don't have a niche, you'll create content about nothing and for anyone.
Know your target audience:
The typical mistake on TikTok is trying to make content for everybody.
But the reality is: to grow on TikTok (or in any other social media platform) you have to be more strategic. How? By choosing and deciding a specific target audience, and building content for them looking at their needs and tastes.
These below are some questions that you can use in order to define your target audience:
Do you target males, females, or both equally?
What age groups do you target?
Do you target people with a particular income level?
Do you target people with certain values?
In short words, in order to obtain a successful account, you should create the right videos for your dream viewers and, to do that efficiently, you first need to know precisely this group by doing research.
Smart tip: with the Pro Account you'll be able to see your personal Analytics, essential in order to better understand your audience's tastes and habits.
But let's leave this topic for the end of the article.
_________________________________________________________________________________________________________
BRANDING, BIOS AND CONTENT: BE AUTHENTIC AND CONSISTENT!
The major part of the social media users does not dispose of any professional camera equipment; they simply create content with their phones, which is authentic to who they are. Use the same approach! By showing your brand's true personality, followers will feel connected and related to you, which builds trust!
The brand is essential.
Even without reading, your readers must be able to recognize your business, just by looking at your company's brand. This is the reason why having a consistent brand image, style and colour is fundamental. Thus, your audience will immediately identify your business among all the others.
The BIO: short, catchy and powerful
Just like that. Your BIO should go straight to the point. Uploading a lot of content or descriptions is not the right strategy to use. Instead, use short sentences that are able to better represent your business and thoughts.
Be unique! Take advantage of your company's personal stories, experiences, passions and personality, and demonstrate your knowledge and skills about your area of expertise in a funny way.
Remember that your profile has to reflect the true you!
Why is it important to be consistent with all your social profiles?
Because otherwise your audience will get lost!
All your social accounts should have a similar look, above all if you are a business: you want a consistent brand look everywhere.
In some ways, businesses have an advantage here because you probably already have brand features. These could include logos, taglines, and an official colour scheme. You can use these, even if you have never been online before.
Smart tip: TikTok isn't the place for squeaky-clean first impressions and fake smiles. It's a place for authentic entertainment, humour, and fun. Just let go!
TO EACH BUSINESS ITS CONTENT:
It's obvious to say that the content and the way of advertising it depends on your specific audience.
One of the advantages of TikTok is that you don't have to struggle to come up with new and unique content ideas. The platform is based around community engagement and hashtags so all you have to do is find existing content and make it your own.
It's not a formal or uber-professional platform; it's a space for users and brands to experiment with trends, act silly and playful, and show another side of themselves.
Your unique brand story and personality will differentiate you from others in the same category.
There's just one aspect always to keep in mind: the brevity of videos and captions is essential. Also because nowadays people have less time to look at social media or read stuff.
How often do you have to post?
If you hope to go viral, you have to make sufficient content for people to notice you. If you keep a low profile, your videos are unlikely to appear often in people's feeds.
Ideally, you should upload a new video each weekday.
When is the best time to post on TikTok?
Well, it depends. On what?
where is your audience located
what time your audience is available
How can you find out these information? Look at your analytics!
Smart tip: the "How to", tutorials and "Before/After" videos are really successful and create a lot of engagement. Try them!
_________________________________________________________________________________________________________
THE POWER OF ANALYTICS:
With the Pro Account, you can view your business' analytics; essential for better knowing your audience. Besides that, your Analytics will show you a much better understanding of how our TikTok account is performing, by showing statistical information related to your posts and followers.
In short words Analytics should be regularly checked in order to see:
if you are achieving your goals
your personal overviews (video and profiles views, followers)
your content screen; this allows you to understand which content generates the best results (what kind of video your followers liked the most)
your audience's analysis; this gives you very specific information about your followers (age, country, tastes, availability). If your followers don't match with your dream target audience means that you're creating the wrong content.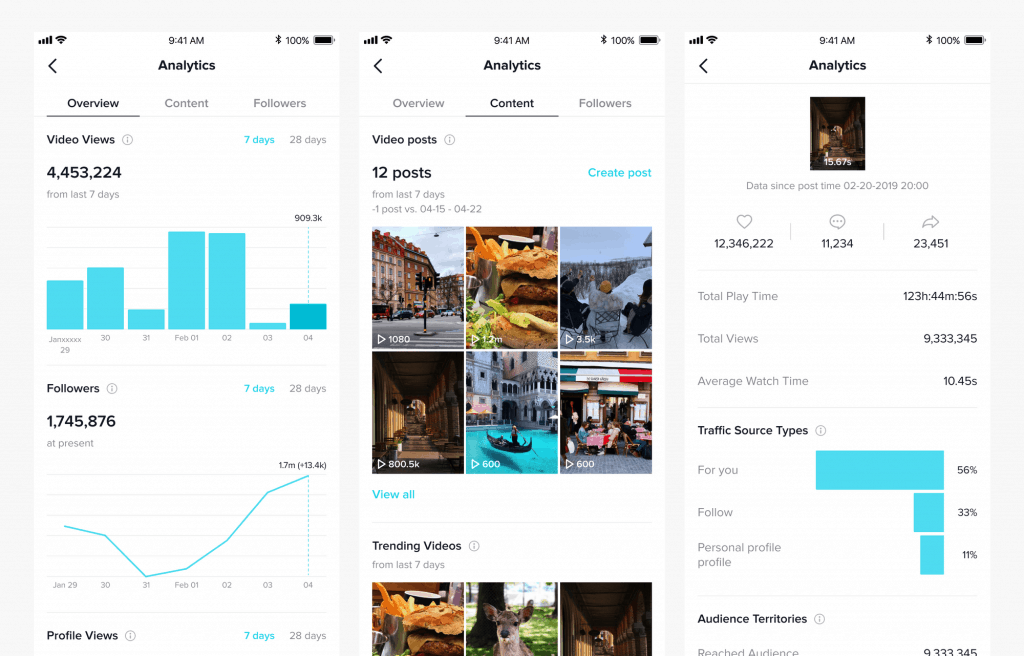 _________________________________________________________________________________________________________
COLLABORATION: SOMETIMES MORE IS BETTER THAN ONE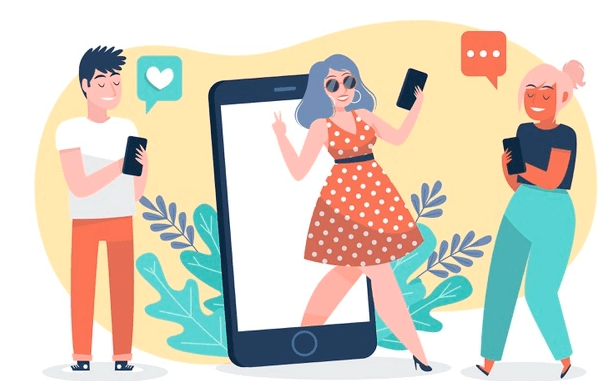 Teamwork with other similar profiles can be useful in order to gain more exposure, followers and you can come up with new ideas.
Feedbacks, comments and DM are essential in order to understand what followers think.
It is crucial that you view, like, and comment on other people's videos. Engagement is part of TikTok's algorithm, and the more you interact with people, the more your videos will end up on their For You pages.
What about influencers?
Well, like on the other social platforms, you can use influencer marketing to expand your reach. Influencers on TikTok have varying numbers of followers, and therefore, varying degrees of influence.
As a brand, you can approach relevant TikTok influencers and propose a working relationship with them but it's important to be strategic about whom you partner with. If your brand sells beauty accessories, working with a video game influencer isn't the best fit. Find influencers who work within your niche and whose personalities align with your brand's values.
For a certain level of pay, TikTok influencers might:
Talk about your product in a TikTok video
Post about it in the video description.
Link to your brand in the description.
Smart tip: connect with a specific pod. What's a pod? A group of like-minded TikTok creators on messaging platforms who work together.
_________________________________________________________________________________________________________
TIPS, TIPS, TIPS:
Before leaving you, I would like to share some important tips in order to set up and maintain a good and successful account on TikTok:
Don't mess up your username, otherwise, your followers will be confused and you risk losing them.
Remember to update your profile regularly paying attention to the new trends. Smart tip: avoid using old video, items or music.
Have and maintain your own style and theme by using your brand's colours, creativity and thoughts. Be different and not a cheap knockoff of someone else!
Don't use a lot of hashtags
Keep your audience engaged: like, share, comments and tell your own stories and experiences.
Don't ignore your sounds: One of TikTok's key differences has been its liberal use of music in the videos that people share. TikTok makes it incredibly easy to add music to 15-second video clips, having made legal arrangements with most of the major music companies to permit the use of copyright music extracts.
Come up with a consistent look and feel
Upload content regularly by using a content calendar
Ok then, here we are! I hope that this guide has been helpful for you.
TikTok has become an active part of digital marketing now and it doesn't seem to be going anywhere.
So get familiar with the app and have some fun!
_________________________________________________________________________________________________________
Sources: I've just completed the "How to build your personal brand on TikTok" free course on Influencer Marketing Hub. I really learned a lot from it.
Highly recommended!
Here's the link: Social Media Marketing Courses | Free Social Media & Influencer Courses (influencermarketinghub.com)
Bio of the author – Sara Grange, Marketing Manager
This article was written by Sara Grange, Marketing Manager of Francis Cooper.
She loves being creative and she always pays attention to new trends, successful marketing tools and strategies.
If you'd like to contact her, please reach out to her vie LinkedIn: Sara Grange | LinkedIn